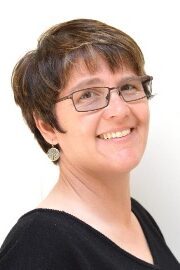 L.B. was born in the mountains of North Carolina but was raised in Switzerland as a missionary kid. As was the custom at the time, missionary kids were expected to attend the local schools, which meant L.B. first learned to read and write in German, although her primary spoken language was English. In third grade she was moved to an American International School where she struggled with the English language. In spite of her struggles, L.B. enjoyed school because of the diversity she encountered, learning about various cultures and the importance of tolerance.
L.B. Tillit grew up in Switzerland and struggled with learning to read and write in English. Yet, she now has her masters in Reading and Literacy.
After graduating from high school L.B. returned to the United States to attend college where she became intrigued by middle school students and she soon found herself teaching middle school back in the mountains of North Carolina. During her sixteen years of teaching L.B. had the privilege of working in the local alternative school where her work with students, who were at-risk of dropping out, earned her recognition as the county's Teacher of the Year. L.B. and her students wrote and self published three books about the county's history which won awards from the North Carolina's Society of Historians. As L.B. worked with the at-risk students her desire to change the lives of struggling student's took seed. During her time teaching she was trained in the Wilson Reading program and earned her National Teacher Certification. After she stopped teaching, L.B. completed her masters in literacy and reading and established My Easy Read Books, a publishing company that promotes the literature she believes will positively impact reading fluency. She was recently recognized by Berea College as a Distinguished Alumni for her passion and commitment to helping struggling readers.
L.B. continues to live in North Carolina with her husband and their three daughters.
You can write L.B. at:
LB Tillit
PO Box 422
Brevard, NC 28712